Faculty of Health and Medical Sciences
Faculty of Health and Medical Sciences
Faculty of Health and Medical Sciences
The main objective of this new faculty is to educate students to become both Clinical Engineers and Medical Laboratory Scientists after passing the respective national examinations. The will become the specialists doctors, nurses and pharmacists will turn to for advice on medical equipment and clinical tests in the hospital setting.
More information concerning the Faculty of Health and Medical Sciences can be found here (in Japanese).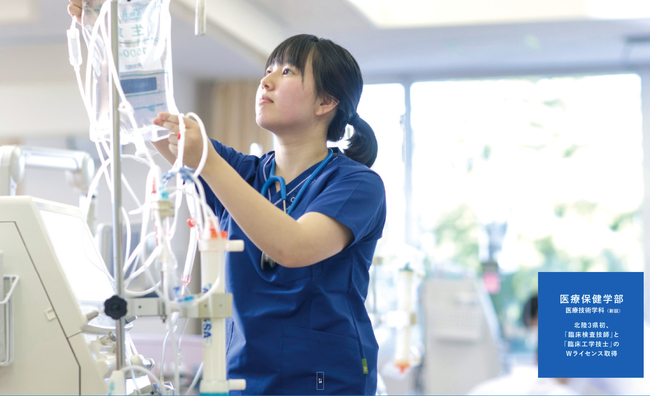 Curriculum / Graduation Requirements:


Common Faculty Core Educational Subjects: 20 Credits minimum (12 credits requisite, 8 credits elective)
Specialised Core Subjects: 45 Credits
Specialised Subjects: 65 Credits minimum (63 credits requisite, 2 credits elective)

Total: 130 Credits (minimum)

Careers and Employment:
Upon successfully graduating from the Faculty of Health and Medical Sciences and passing the National License Examination, students can receive 2 licenses to work as both a clinical medical specialist and as a clinical engineer.

Using both licenses, graduates can choose to work in a medical institute or a medical instrument manufacturing enterprise.

Hokuriku University has received consent from 55 medical institutes in the Hokuriku area (Ishikawa, Toyama and Fukui) to provide training and practical experience for our students during their 4th year. This invaluable experience will allow students to see first hand how medical specialists and engineers are employed as well as allowing students future employment opportunities.